Henan's Profile - Fertile Land with Abundant Resources
Source:hnfo.gov.cn
|
2022-04-21 17:16
---
Henan is located in the mid-eastern part of China, amongst the lower and middle reaches of the Yellow River. Since most of its areas are located at the south of the Yellow River, it is called "He-Nan" (South of the River). According to the classical history book Yu Gong Shang Shu (The Tribute of Yu), ancient China was divided into nine states with Henan right at the center; therefore Henan also was named "Zhongzhou" (The Central State) or "Zhongyuan" (The Central Plains).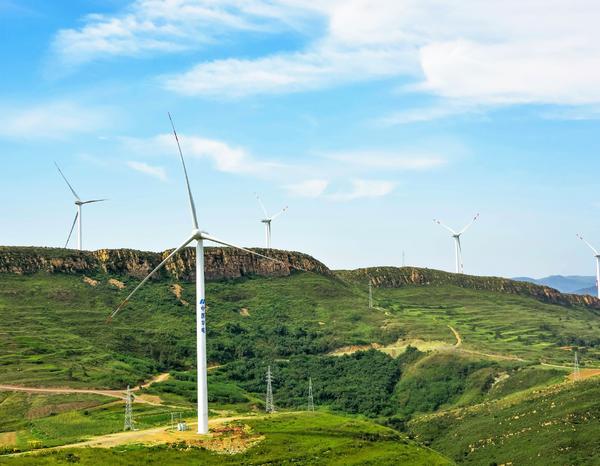 Chuancheng wind farm in Luoyang City. [Photo/Information Office of Henan Provincial People's Government]
Natural Resources and Environment
Situated between longitude 110°21'~116°39' east and latitude 31°23'~36°22'north, Henan borders Shandong and Anhui to the east, Hebei and Shanxi to the north, Shaanxi to the west, and Hubei to the south. It covers a total area of approximately 167,000 sq km, most of which is located in a warm temperate zone. Although its south is considered subtropical, Henan has four distinct seasons. It covers a climate system that ranges from a continental monsoon climate to a warm temperate climate. In addition, there are four river basins in Henan: the systems of the Yangtze River, the Yellow River, the Huaihe River, and the Hai River; Henan has a total water volume of 40.5 billion m³. Moreover, it is rich in animal and plant resources and currently has 115 forest parks of which 31 are national parks. There are 520 species of known terrestrial vertebrates and 94 state-protected wild animals. "Those who win Henan win China," goes the old saying; superior natural conditions, abundant resources, and a convenient transportation system form the basis of Henan's economic development.
Famous and High-Quality Agricultural Products
Henan's production output of wheat, sesame, jute, and edible fungi ranks first in China while the cultivation of Chinese herbal medicines, cotton, oil, and tobacco continues to grow quickly. The rice grown in Yuanyang, Chinese dates in Xinzheng, apples in Lingbao, garlic in Zhongmu, day lilies in Huaiyang, pomegranates in Heyin, cornel in Neixiang, the Maojian tea in Xinyang, watermelons in Kaifeng, kiwi fruits in Xixia, the four major Huaiqing Chinese medicines in northern Henan, and calyx canthus in Yanling all enjoy a good reputation. Animal farming in Henan has a long history; there are various local livestock breeds that include cattle, sheep, pigs, ducks, Gushi chickens, white geese, rabbits, and others.
Mineral Resources
Henan is rich in mineral resources. Up till now 141 kinds of minerals have been discovered, of which 106 have been proven in reserves. 92 kinds of minerals have been exploited and developed, including molybdenum, gold, aluminum, silver, copper, lead, other nonferrous metals, natural alkali, refractory clays, graphite, perlite, and other non-metallic minerals. Of the mineral resources with ascertained reserves, there are 13 species that rank first in China, 36 in the top three, and 52 in the top five.